Hub of the Region
We're at the crossroads of the Goldfields Way and Burley Griffin Drive – they're part of the shortest routes between Sydney/Canberra and Adelaide (the Burley Griffin Way) and between Victoria and Queensland (Goldfields Way).
Many people stop off for a few days to explore our region with Temora as a base while others enjoy finding their "roots" or just relaxing in the pleasant surroundings of a great little country town.
Burley Griffin Way gets its name because it links two cities designed by the great American architect, Walter Burley Griffin.
Temora is a great hub from which to explore or service the region stretching from Orange, Forbes and Parkes to Wagga's district and from Canberra and Yass to Narrandera, Leton and Griffith.
Aviation Exploration

Australia as a rich history in aviation – and some of it can be found in and around Temora. We can take you on a tour of one of Australia's finest aviation museums where you can get "up close" with Australia's only operational Spitfire, a Gloster Meteor, a Canberra bomber, Wirraways, A Dragonfly and much, much more. Then we'll take you to some more modern aviation location where you can see just what happens in today's aviation world.
Rail History

Fancy a trip down railway memory lane? We will show you some of the equipment that was used to make our railways the prime transport for our crops in the early days of the region. We'll also show you a museum that will have you gasping if you're a railway buff. Even if you're not, you can admire some of the great locomotives that played a significant role in building our Nation.
Sweet Tooth
Our Sweet Tooth tour will have you licking your lips. Ever got lost in chocolate factory? We'll take you to one. What about liquorice? Try to eat your fill on this tour. Enjoy special jams? That's also part of the tour. And we'll even toss in a haunted house.
Antiques and old wares
Goldenfields area is where you'll find some fabulous antiques – at terrific prices. This tour will take you around some of the many antique and old ware shops. If you like old things you'll just love this tour.
Mineral Springs
This is a tour for all those who enjoy the invigoration of natural mineral springs. We'll make sure you leave satisfied – and after a healthy meal as part of the tour.
Fore!!!!!!!
Yes, we have a great golf tour for you. Try some (or all) of these courses:
Temora
Coolamon
'West Wyalong
Young
Cootamundra
Harden
Junee
Wagga (any of four courses)
Narrandera
Leeton
Ardlethan
Ganmain
Gundagai
Lockhart
The Rock
We'll organise the itinerary for you – and that includes green fees. For large parties we will organise transport to each of the Clubs and ensure that meals are provided if required.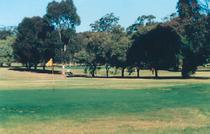 Business Centre
Many business travellers use Temora as a convenient base to cover this vast area, ensuring that they maintain customer contact and service.
It's less than an hour to Young, Wagga Wagga, Harden-Murrumburrah, West Wyalong, Adelong, Coolamon and more, a little more than an hour to Narrandera, Leeton and Yass, less than two hours to Griffith, Canberra and Forbes.
At the Aromet, we help tourists or business travellers to plan their activities and to provide support in the form of provision of detailed maps, assistance with facsimile transmissions or emails and even organising meetings through telephone calls.
Business Help
There's lots of help available to businesses in the area – starting at The Aromet and extending through Temora Shire and the NSW Government. Just ask us for assistance and we will introduce you to a range of assistance groups.
Links
Liquorice and Chocolate Factory:
| | | |
| --- | --- | --- |
| Enter 2666 pcode for Temora Forecast | Temora Current Weather | Future Forecast |